November 28, 2011

To whom it may concern:

Every so often an exceptional experience occurs that you can't keep to yourself, you must tell the world about it. Such an experience has happened to me twice in the last 20 months and I need to tell my story.

On March 16, 2010 I had a total knee replacement (TKR) performed at Doctor's Hospital of Sarasota by Dr. Ronald P. White of the Kennedy-White Orthopedic Center. I had suffered for many years with very painful arthritic knees so my wife and I attended one of Dr. White's public seminars on knee and hip replacement surgery. After listening to Dr. White explain the procedure, I was so impressed I couldn't wait to get my knees done as soon as possible. The outcome was nothing short of fantastic and the recovery was as brief as anyone could expect. Within two weeks I was walking with a cane and taking bare minimum pain relief (such as Tylenol). In a month I was practically normal and without pain in my right knee.

On November 15, 2011 I followed up with a "unicompartmental" medial replacement (partial knee replacement) on my left knee by Dr. White, also at Doctor's Hospital, with absolutely remarkable results. The stay at the hospital was only over night and the recovery time was minimal. In 3 days I was off the more powerful pain medication and only on an OTC (Tylenol). I came home with only a cane and the therapist took that away during the second week of home health care.

In both of these cases the home health nurses and physical therapists recommended by Dr. White's office were ultra professional and certainly patient oriented. It may seem that the recovery was more rapid than normal, but Dr. White had encouraged me to do some preoperative physical therapy such as riding a bike or underwater exercise to strengthen my quad muscles, and it worked.

Overall, Doctor's Hospital is spectacular in their patient care. It is nearly a "country club" atmosphere for the entire stay and treatment. Each patient is an individual and cared for, as such, in a private room. Kennedy-White Orthopedic Center and Dr. White, especially, is "number one" in their field and certainly do more than expected for patient's understanding and treatment.

I guess I have told my story and it is obvious I am absolutely thrilled with my outcome and the total exceptional experience. I am pleased I am able to share this with others who may have some trepidation about knee replacement surgery. Don't wait if you need it! Go see Dr. White!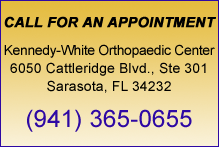 Anterior Supine Intermuscular (ASI) Hip Replacement
Smaller Incision Hip Surgery
Conservative Hip Replacement
Newer Trabecular Metal Cup Backing
Metal, Ceramic, or Cross-Linked Polyethylene Articulating Surfaces
Smaller Incision Knee Surgery
Gender-Specific Knee Replacement
Partial Knee Replacement (Patellofemoral)
Partial Knee Resurfacing (Single Compartment)
Advanced Total Knee Replacement
Patient Specific Instrumentation Through MRI Navigation