OxfordŽ Partial Knee

Health Matters provides a forum for clinicians and the medical industry to educate consumers about developments in healthcare. Our current focus is The OxfordŽ Partial Knee, currently the only FDA-approved, free-floating meniscal partial knee system available in the United States. For patients with knee arthritis limited to the medial compartment, surgeons may elect to perform OxfordŽ partial knee replacement. Some advantages of the OxfordŽ partial knee replacement are that it removes 75% less bone and cartilage, is less painful, enables a more rapid recovery, and provides more natural motion when compared to a total knee replacement. Published long-term clinical results on the OxfordŽ Knee demonstrated a 98% success rate at 10 years and 95% at 15 years and beyond, equaling the results of the most successful total knee replacements.
More natural motion*
Less pain*
More rapid recovery*
75% less bone removed*
If you have questions regarding the OxfordŽ Partial Knee, please speak with an orthopedic surgeon or click here for patient risk information. Only an orthopedic surgeon can determine what treatment is appropriate. Individual results of total joint replacement may vary. The life of any implant will depend on your weight, age, activity level, and other factors.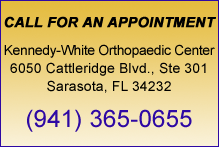 Anterior Supine Intermuscular (ASI) Hip Replacement
Smaller Incision Hip Surgery
Conservative Hip Replacement
Newer Trabecular Metal Cup Backing
Metal, Ceramic, or Cross-Linked Polyethylene Articulating Surfaces
Smaller Incision Knee Surgery
Gender-Specific Knee Replacement
Partial Knee Replacement (Patellofemoral)
Partial Knee Resurfacing (Single Compartment)
Advanced Total Knee Replacement
Patient Specific Instrumentation Through MRI Navigation