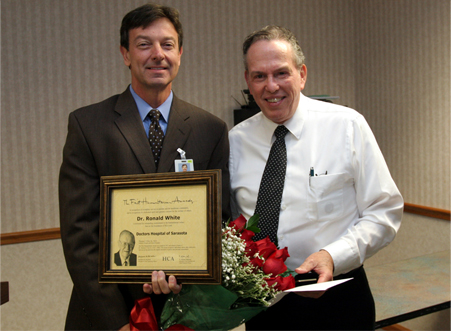 Sarasota, Florida - - (March 31, 2011) - - Ronald P. White, MD, Gene Stasiowski, and Lloyd Lininger were recently awarded the Frist Humanitarian Award. This award is the highest honor a physician, employee and volunteer can receive at Doctors Hospital of Sarasota.

The Frist Humanitarian Award was created in 1971 to honor outstanding individuals for their humanitarian and volunteer activities. Named in honor of Dr. Thomas F. Frist, Sr., a founder of HCA, this award recognizes individuals whose daily dedication and care giving epitomize the highest standards of quality and personal commitment.

Ronald P. White, MD is a board certified orthopaedic surgeon with the Kennedy White Orthopaedic Center. He has published peer review articles in many major orthopaedic journals and has made two mission trips to Guatemala. Dr. White believes that one must use his own talents for those less fortunate. He is an active member of the Faith Baptist Church and has contributed many hours assisting in any way he is needed.

Gene Stasiowski has been a highly respected employee of Doctors Hospital for 20 years. He serves as the Controller in the Accounting Department and is always available to help where he is needed. Gene is Vice-Chairman of the local American Cancer Society's Relay for Life and an active member of the hospital's Relay for Life Team.

Lloyd Lininger has volunteered his entire adult life. He currently volunteers at Doctors Hospital and with Sarasota Squadron as a Mission Pilot. Lloyd volunteers in equipment coordinating for the hospital and he is the recording secretary of the Auxiliary. Lloyd is the co-editor of the volunteer newspaper and has volunteered for the Red Cross, Habitat for Humanity and has served as a volunteer fireman. He has also donated time and use of his personal airplane to the tissue and organ transplant program and has volunteered with the Civil Air Patrol, joining in search and rescue missions.

"It is an honor to work alongside this year's Frist Award winners and all of the employees, volunteers and physicians who were nominated," said Robert Meade, CEO of Doctors Hospital. "Their extraordinary efforts on behalf of our patients, co-workers, the company and this community are very much appreciated. They are deserving of this honor." For more information on Doctors Hospital of Sarasota, please contact Melissa Morgan at 941-342-1012.



About Doctors Hospital of Sarasota


Doctors Hospital of Sarasota is a 155 bed, acute care facility serving the healthcare needs of Sarasota County residents. Doctors Hospital is a Joint Commission Certified Advanced Primary Stroke Center and a Society for Chest Pain Centers Accredited Chest Pain Center as well as one of Modern Healthcare's Top 100 Best Places to Work for the second year in a row. For more information about the services of Doctors Hospital of Sarasota, please contact Melissa Morgan at 941-342-1012 or 941-809-9130.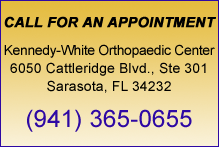 Anterior Supine Intermuscular (ASI) Hip Replacement
Smaller Incision Hip Surgery
Conservative Hip Replacement
Newer Trabecular Metal Cup Backing
Metal, Ceramic, or Cross-Linked Polyethylene Articulating Surfaces
Smaller Incision Knee Surgery
Gender-Specific Knee Replacement
Partial Knee Replacement (Patellofemoral)
Partial Knee Resurfacing (Single Compartment)
Advanced Total Knee Replacement
Patient Specific Instrumentation Through MRI Navigation